BWMacfarlane have been happy to support an award winning local service with free accountancy advice recently as it plans its development for the next few years.
Winner of 'Project of the Year' at the Community Foundation for Merseyside's 2012 Spirit of Merseyside awards, The Open Door Centre is a mental health service which aims to make the treatment of mild depression and anxiety accessible and approachable to young people. Based in Liscard, Wallasey, it is designed by young people and specifically tailored to the needs of the modern young person. For more information check out their website www.theopendoorcentre.org or call on 0151 639 4545 or email info@theopendoorcentre.org.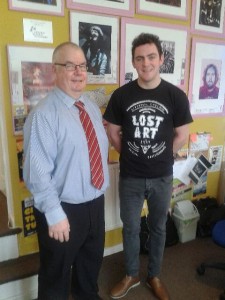 Working with the Project Leader, Lee Pennington, BWMacfarlane Accounts and Audit Senior, Dave Forshaw (pictured here with Lee at the Open Door Centre) has been imparting advice on the financial procedures, governance and future structure of the Centre.
BWMacfarlane have real depth and breadth in our charity team who have considerable experience of the sector as well as personal commitments as trustee volunteers, making us friendly and accessible to work with.  We act in this one office for nearly 140 charities and not for profit organisations which we believe gives us exceptional experience and capability in this specialist sector.